PC220-8 PC300-6 PC400-6 PC600-6 PC600-8 PC700-8 swing bearing for excavator
25-08-2023
PC220-8 PC300-6 PC400-6 PC600-6 PC600-8 PC700-8 swing bearing for excavator
Recently Luoyang Heng Guan Bearing Technology CO.,Ltd made a bulk order of excavator swing bearings for customers from Turkey.
Models we made this time is PC220-8 PC300-6 PC400-6 PC600-6 PC600-8 PC700-8. It is mainly used in komatse excavators.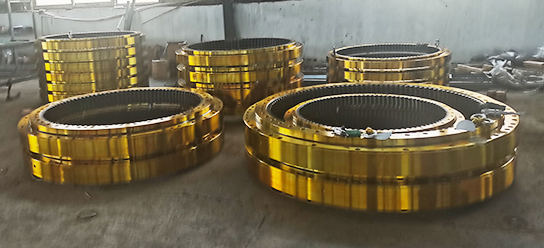 The excavator slewing device is composed of a turntable, a slewing support and a slewing mechanism, etc. The outer race of the slewing support is connected to the turntable with bolts, the inner race with teeth is connected to the chassis with bolts, and rolling elements are arranged between the inner and outer races. The vertical load, horizontal load and overturning moment of the excavator working device acting on the turntable are transmitted to the chassis through the outer race, rolling body and inner race of the slewing bearing. The casing of the slewing mechanism is fixed on the turntable, and the pinion gear meshes with the ring gear on the inner race of the slewing support. The pinion can not only rotate around its own axis, but also revolve around the center line of the turntable. When the turning mechanism is working, the turntable will rotate relative to the bottom frame.
After 30 days manufacturing time, we finished the swing bearing on time. Please find photos of some models. To increase the anti rust effect, we apply golden hard film anti-rust oil on the bearing.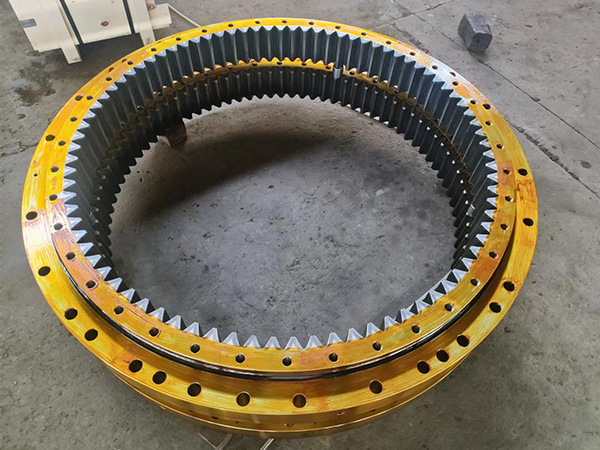 Besides these models, we also have many other excavator models. Please find more details in our website: https://www.hgbearing.net/product-list/excavator-slewing-bearing